I going to do something a little different for this post - I was reading At Home In The Northwest (http://athomeinthenorthwestblog.com/2012/03/tag-im-it.html ) and there was a challenge that I decided to accept. Now, I have to admit that I was NOT "tagged"; however, I loved the idea and so, I "borrowed" it. Now, before anyone gets upset - I did let her know that I was doing it.
What exactly am I talking about? Well, Jen, the author of At Home in the Northwest had answered eleven questions that had been posted by one of her readers and she challenged other bloggers to do the same. So
here is the Q and A she had posted on her blog. It might give some of you a little more information about my life.
1. If you had a spare $1,000, on which home decor project would you spend the money?
Actually, I know
exactly where I would spend $1,000 - our yard! We have spent so much time (and money) on the interior of the house that we have somewhat ignored the outside.
This was the front of our house right after we moved in. What I don't have is a picture of the way the house looked when we first looked at the house two years ago - with twenty-three palm trees (yes, I said 23 palm trees) in the front yard that we had to have removed!
This was the house right before Thanksgiving last year. We really haven't done much else to the front of the house. I would love to really "fix" the landscaping in our yard - and $1,000 would certainly give us some money to work on the project.
2. What is the best book you've read in the past year?
I've read quite a few books in the past year - but I guess I would have to say that the best book I've read is 11/23/63 - but I'm in the middle of a good one right now, but I'll save that for a future post.
3. What is your ideal date with your significant other?
I have two places that I would say would be my "ideal" date - the first one would be on a cruise (he would like that because we don't have the pups on a cruise) and the second would be anywhere in the camper. We love to camp, so being together in the camper is one of our favorite places to be.
4. How would you describe your decorating style?
Comfortable country - really, just comfortable - I don't like anything stuffy or formal. We have tried to change our style to a more tropical look, especially after moving here to South Florida, but we always go back to what we like best. Now, when I say "county" I don't mean primitive country, or early American country - but just some country accents.
5. Why and when did you start blogging?
That one is easy - I started this blog "Are We There Yet?" when Mountain Man and I went on the road full-time in 2009. I started the blog to be able to keep in touch with family and friends while we were on the road - hence the name. I've thought about changing the name since we are in a 'sticks and bricks' again, but many of my friends that have been with me since the beginning wanted me to keep the name - and who is ever "there yet"? So, I'll keep the name - at least for now.
6. Do you watch reality TV?
Okay, this is confession time - yep, I watch some reality TV. I guess you could say that I am selective - I watch The Bachelor, and The Bachelorette. I watch American Idol. However, I absolutely LOVE Dancing With the Stars! My life, sometimes, revolves around DWTS - have to be home in time for the show and the result show! LOVE, LOVE, LOVE!!!!!! I know, I know - but I don't do things like Survivor, The Apprentice, The Hoarders or Tots and Tiara's - don't like the idea of that stuff. Would rather stay with light entertainment. Sorry to those of you that do - just not my cup of tea, so to speak.
7. What has been your favorite/best post from your blog in the past year?
Wow! That's a hard one. I guess I would have to say that my favorite post from the last year is from November 7, 2011 titled "Surprise". Why? Well, this is the post where I announced to the world that I am going to be a first time grandmother in June of this year. That might not be that exciting to some, but it is, by far, my "most favorite" post!
The new parents to be - my daughter Melissa and son-in-law Justin!
8. If you had a free day to shop in a nearby city, which home decor stores would you make sure to visit?
That one is really pretty easy too - IKEA and Kirkland's. We actually have to go to Orlando to go to IKEA, but if I go to the nearest city I would have to go to Kirkland's and then hit the local thrift shops (Goodwill, Salvation Army) and consignment shops.
9. When do you blog/how does blogging fit into your day?
Actually, I try to blog first thing in the morning, however, it really depends on what is going on in our lives. If we have things planned I try to get things done ahead - but that doesn't happen very often! LOL! Right now, since I am trying to build up my readership, blogging takes up a lot of my day - but that's okay for now. So, if I'm not blogging, I'm doing something that I will blog about in the future!
10. In which sports activity do you or would you participate?
Well, I use to run, but for some reason I quit - now I think I'm too old. I mean I am almost 60 - so instead of running - I walk. It's a little better for my joints - but who knows - I just might buck the odds and start running again!
11. What is your favorite decorating trend right now?
Probably I would have to say that my favorite decorating trend right now is not having 'matchy, matchy' furniture. You know what I mean? It used to be that everything had to be in a "set" - a living room "set" or a bedroom "set" and everything had to be exactly the same.
Well, thank goodness that is NOT the trend now - rooms today look lived in and that they developed over time and not in a showroom. Love that!
For example, when we bought furniture for our bedroom we went to three different stores - one for the nightstand on Mountain Man's side of the bed, one for the headboard, and one for my nightstand and the dresser. Then we used my grandmother's cedar chest at the foot of the bed (the pups have to have a way to get in the bed - LOL!), and the "chair and a half" and an end table that we had in our TV room in north Florida. In my opinion, it makes for a much more comfortable room.
Okay, now TAG - YOU'RE IT!
Rules
*
You must post the rules
* Answer the 11 questions that the tagger posted; then create 11 questions to ask the people you've tagged.
* Link back to the original blog - so they know you've taken the challenge!
So, here goes -
Here are your questions:
1. Do you have a pet? If so, what kind?
2. Do you watch reality TV?
3. If you could change anything in your home what would it be, and why?
4. Is your desk messy or neat?
5. Do you DIY? If so, what is your favorite project from the last year?
6. What is your favorite food?
7. What is your favorite design trend right now?
8. What is your favorite childhood memory?
9. What is your favorite room in your house and why?
10. When did you start blogging and why?
11. What is your ideal date with your significant other?
Also, I'm joining a new bloghop that is called Welcome Wednesday - hope you will "hop" over and check it out!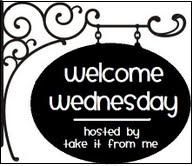 Have a great day and check back tomorrow for a new project that Mountain Man and I have been working on!
Carol